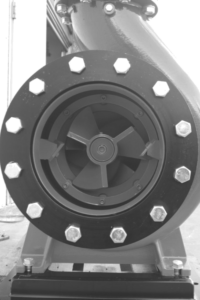 A chopper pump is a centrifugal pump which is equipped with a cutting system to facilitate chopping or maceration of solids that are present in the pumped liquid. The main advantage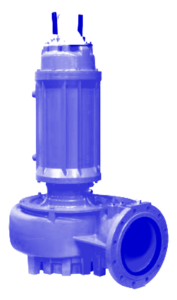 of this type of pump is that it prevents clogging of the pump itself and of the adjacent piping, as all the solids and stringy materials are macerated by the chopping system.
Chopper pumps exist in various configurations, including submersible and dry-installed design and they are typically equipped with an electric motor.
Due to its high solids handling capabilities, the chopper pump is often used for pumping sewage, sludge, manure slurries, and other liquids that contain large or tough solids.
Submersible & Dry Installation
SUBMERSIBLE CHOPPER PUMPS TYPE HCS - S

HCS 65 S
Flow                    : 480 gpm (110 m3/h)
Head                   : 95 ft (29 m)
Motor                  : 10 - 15 Hp (7.5 - 11 KW)
Suction Diam     : 4 inch (100 mm)
Discharge Diam : 2 1/2 inch (65 mm)
HCS 80 S
Flow                    : 700 gpm (160 m3/h)
Head                   : 151ft (46 m)
Motor                  : 3 - 26 Hp (2.2 - 18.5 KW)
Suction Diam     : 4 inch (100 mm)
Discharge Diam : 3 inch (80 mm)
HCS 100 - 150 S (double chopper)
Flow                    : 1500 gpm (340 m3/h)
Head                   : 65 ft (20 m)
Motor                  : 5 - 26 Hp (2.2 - 18.5 KW)
Suction Diam     : 6 - 8 inch (150 - 200 mm)
Discharge Diam : 4 - 6 inch (100 - 150 mm)
HCS 100 - 150 S (double chopper)
Flow                    : 1140 gpm (260 m3/h)
Head                   : 165 ft (51 m)
Motor                  : 20 - 60 Hp (15 - 45 KW)
Suction Diam     : 6 inch (150 mm)
Discharge Diam : 4 inch (100 mm)
HCS 200 S (double chopper)
Flow                    : 3170 gpm (720 m3/h)
Head                   : 72 ft (22 m)
Motor                  : 20 - 40 Hp (15 - 30 KW)
Suction Diam     : 10 inch (250 mm)
Discharge Diam : 8 inch (200 mm)
HCS 250 S (NO chopper)
Flow                    : 6100 gpm (1400 m3/h)
Head                   : 79 ft (24 m)
Motor                  : 11 - 45 Hp (15 - 60 KW)
Suction Diam     : 10 inch (250 mm)
Discharge Diam : 10 inch (200 mm)
HORIZONTAL CHOPPER PUMPS TYPE HCH - H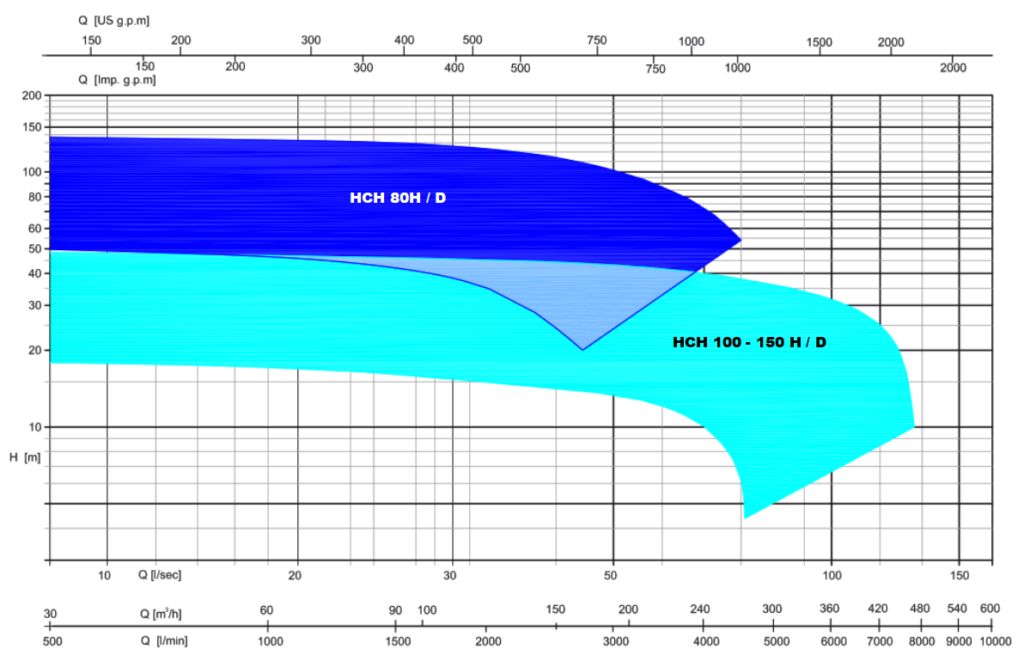 HCH 100 - 150 H (double chopper)
Flow                    : 2000 gpm (460 m3/h)
Head                   : 450 ft (137 m)
Motor                  : 27 - 120 Hp (20 - 90 KW)
Suction Diam     : 6 - 8 inch (150 - 200 mm)
Discharge Diam : 4 - 6 inch (100 - 150 mm)
HCH 100 - 150 D (double chopper)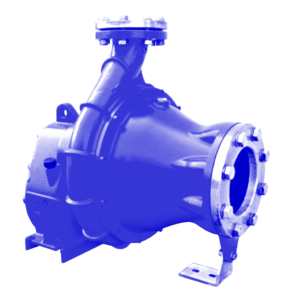 Flow                    : 2000 gpm (460 m3/h)
Head                   : 450 ft (137 m)
Motor                  : 27 - 120 Hp (20 - 90 KW)
Suction Diam     : 6 - 8 inch (150 - 200 mm)
Discharge Diam : 4 - 6 inch (100 - 150 mm)
Gear Box for direct drive with Diesel Engine
Examples of applications where Heger Chopper Pumps are commonly applied:
Scum pumping at wastewater treatment plants
Sewage wet wells and lift stations; especially sewage containing wet wipes
Sludge pumping at biogas facilities
Pumping agricultural manure (dairy, hog and poultry)
Septage receiving stations
Waste processing at slaughterhouses, poultry abattoirs, fish processing plants, etc.
Paper mills / pumping of pulp
Highway Departments, to spread chopped hay to prevent soil erosion
contact us for your application [email protected]
or call +1 562-989-5432